Books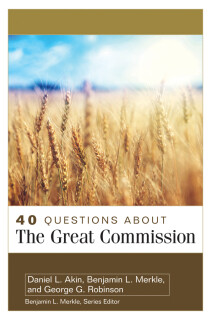 40 Questions About the Great Commission
Jesus' Great Commission is one of the key pillars of the church's evangelistic work and has been the guiding principle for missionaries throughout church history. In 40 Questions about the Great Commission, scholars Daniel Akin, Benjamin Merkle, and George Robinson unpack the meaning, history, theology, and practical applications of Jesus' command to go and make disciples. Ideal for personal or group study, this volume will reignite your passion for evangelism while answering key questions like:
Where do we stand in relation to fulfilling the Great Commission?
How do baptism and teaching relate to the Great Commission?
What is the meaning of "I am with you always, to the end of the age"?
How does the Old Testament relate to the Great Commission?
What is the special contribution of each Gospel's version of the Great Commission?
What is the responsibility of the local church to the Great Commission?
What are some mobilization resources that can help churches and individuals to become Great Commission focused?
Other highlights include an overview of some of the great evangelists and missionaries in church history, and a collection of notable quotations on the Great Commission, ideal for teaching and preaching.